LODGING
After your hunt, you are invited to relax in our newly built private lodge with accommodations for up to six overnight quests. The lodge sits on a hill overlooking picturesque views of the peaceful surrounding countryside. It offers a roomy relaxation area — where details of the day's hunt can be relived along with stories of old bird dogs and wingshooting memories. Or you can relax, put your feet up and chill out on the expansive porch. Our lodge was designed with our hunting guests in mind — comfortable rooms each have a private bath and if you must bring your computer, we offer free WiFi.
The day isn't over till you've experienced a tantalizingly delicious home-cooked southern meal! Only then can you kick back and watch the sun set to the sweet sound of Bobwhite quail calling.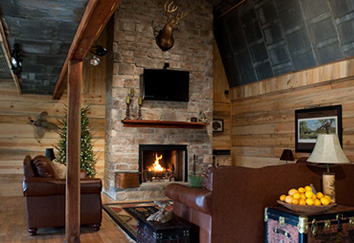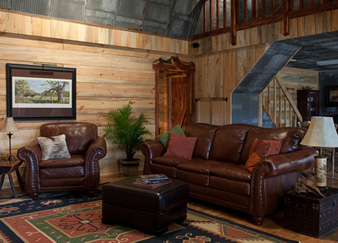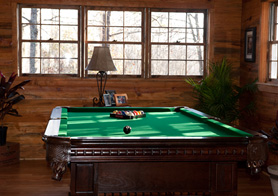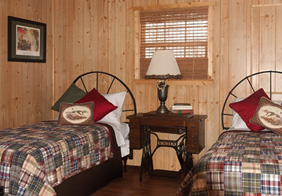 DINING
True southern cuisine is a combination of culinary heritages from around the world. Your prehunt breakfast includes homemade sausage biscuits and fresh brewed coffee. After a grueling day of quail hunting, you'll be ready for a real, home cooked Southern meal!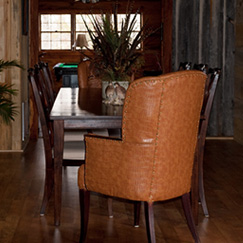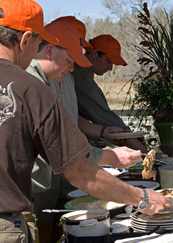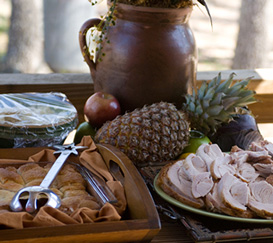 From hors d'oeuvres of enticing filled jalapenos to melt in your mouth tomato tarts to meals including blackened or smothered quail, grilled savory beef, Southern fried turkey and Davis family stew only to be topped off with Mazie's sweet potato dumplings, buttermilk pie or one of our seven layer homemade cakes! And it goes without saying that the family recipes of cornbread and biscuits are a mainstay for the table.
Come find out for yourself… following some fantastic quail hunting… mealtimes at Davis Quail Hunts are simply a culinary delight!